Subscription Service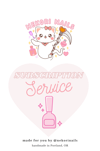 This listing is for my subscription service that is going for January 2022-December 2022. All spots are currently full.
MAKE SURE TO FILL OUT THE CUSTOM ORDER FORM AS SOON AS YOU CAN ONCE YOUR SET IS PURCHASED BELOW -
💓✨ Nekori Nails Custom Order Form ✨💓
It's a super special plan that comes with monthly themed nails (that will still be catered to what you want within that). You don't have to worry about securing a custom spot and your sets will always be first in the queue to be completed with more of a 2 week wait time at max. Alongside your subscription, there will be a cute art/thank you card that is customized to that month that only you will have. Per usual, Loyalist sets come in a beautiful box for safe keeping.
This is a 6 month subscription plan that will need to be paid for monthly on the 2nd of each month, you will be sent an DM to do so. Please remember that it will be a commitment (so please think it over if you can!) but of course there's no penalty if something does come up, just talk to me about it!
How it works is that, you will choose something along the lines of the theme which I have examples of down below. It'll be close to an artist choice but you can definitely tell me if there's something you'd want or absolutely don't want - and your size/shape you'd like for that set! You can just let me know via my form or DM.
Here's each month's theme:
(First Half)
✨January - Otome/Isekai✨
Ex. Obey Me, My Life as a Villainess, Sword Art Online
✨February - Romance Anime✨
Ex. Horimiya, Toradora!
✨March - Husbandos✨
Ex. Inuyasha/Sesshomaru, Gojo/Nanami
✨April - Waifus✨
Ex. Nezuko/Shinobu, Nobara/Maki
✨May - Slice of Life/School Life Anime✨
Ex. Saiki K, K-On!
✨June - Sports/Summer Theme Anime✨
Ex. Haikyuu, Free!
-------------------------------------------------------------------------------
(Second Half)
✨July - Animals/Kawaii Characters ✨
Ex. Chopper from One Piece, Sanrio
✨ August - OTP (One True Pairing) OR Your Fav Character of All Time ✨
Ex. Tohru and Kyo from Fruits Basket, Eiji and Ash from Banana Fish (-cries-)
✨ September - Villains/Antagonists ✨
Ex. Chrollo from Hunter x Hunter, Dio from Jojo's Bizzare Adventure
✨ October - Horror/Thriller ✨
Ex. Junji Ito, Castlevania
✨ November - Magical/Supernatural ✨
Ex. Sailor Moon, Noragami
✨ December - Your Choice ✨
Ex. Hehe, my Christmas gift to you!
For July 2022-December 2022, spots will open again for the subscription and they will just be first come first serve with priority given to who have already done it.