Subscription Service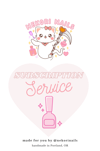 This listing is for my subscription service that is going for January 2023-June 2023. This plan will be $95 per month starting January 2023. SPOTS ARE FULL UNTIL JUNE 2023.
MAKE SURE TO FILL OUT THE CUSTOM ORDER FORM AS SOON AS YOU CAN ONCE YOUR SET IS PURCHASED BELOW -
💓✨ Nekori Nails Custom Order Form ✨💓
It's a super special plan that comes with monthly themed nails (that will still be catered to what you want within that). You don't have to worry about securing a custom spot and your sets will always be first in the queue to be completed ahead of normal custom orders. Alongside your subscription, there will be a cute art/thank you card that is customized to that month that only you will have. Per usual, all sets come in a beautiful box for safe keeping. You are also entitled to free sizing kits shipped to you as needed, please DM me regarding these!
This is a 6 month subscription plan that will need to be paid for monthly on the 2nd of each month, you will be sent an DM to do so. Please remember that it will be a commitment (so please think it over) but of course there's no penalty if something does come up and you cannot pay on time, just talk to me about it!
How it works is that, you will choose something along the lines of the theme which I have examples of down below. It'll be close to an artist choice but you can definitely tell me if there's something you'd want or absolutely don't want - and your size/shape you'd like for that set! You can just let me know via my form or DM.
Here's each month's theme:
(First Half)
✨ January - Video Game/RPG ✨
Ex. Nier Automata, Twisted Wonderland, Maplestory, WoW, League of Legends, Wreck-it Ralph
✨ February - Shoujo ✨
Ex. Yona of the Dawn, Fruits Basket, Ouran High Host Club
✨ March - Shounen ✨
Ex. Bleach, Naruto, Attack on Titan, Full Metal Alchemist, Chainsaw Man
✨ April - Sanrio or Disney/Pixar✨
Ex. Hello Kitty, My Melody & Kuromi, Aggretsuko, Gudetama, Monster's Inc, Lilo and Stitch, Turning Red
✨ May - Power of Friendship/Love ✨
Ex. Sailor Moon, One Piece, Fairy Tail, Howl's Moving Castle, Spirited Away, Soul Eater
✨ June - Best Protagonist(s) ✨
Ex. Gon and Killua (Hunter x Hunter), Hinata and Kageyama (Haikyu), Kaneki (Tokyo Ghoul), Usagi (Sailor Moon)
For July 2023-December 2023, spots will open again for the subscription and they will just be first come first serve with priority given to who have already done it.