Surprise Set | Artist Choice Nails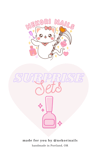 Want a set from me? Look no further!
A surprise set consists of letting me know what shape you'd like and your size!
*As of right now, I will only work on long or medium stiletto, almond, coffin, or short almond*
Also include your Instagram handle so I may contact you! It will be in my *style* and all my sets are bespoke so they're unique to you!
Surprise sets may take up to 2-3 weeks to complete, (unless stated otherwise) I will send you a completed photo before sending them out. I will let you know if I need more time. Patience is key! Don't rush a beautiful thing.
Sets will come with a nail prep kit like my ready-made sets that include 1 nail glue, 20 nail glue tabs, cuticle pusher, buffer, file, and alcohol cleansing wipe. These are as supplies last since they're complimentary!
Note: The best way to accurately measure your size is to order a sizing kit from me. Then you will have the exact nails I use to compare against your fingers, I am not responsible for incorrect sizing on your part. Although, even if something is a little too big or a little too small, they still tend to fit well enough to look good regardless!